To ensure a fair gameplay environment for all Shadowverse: Evolve players, the following card will be restricted to one per deck starting from December 8.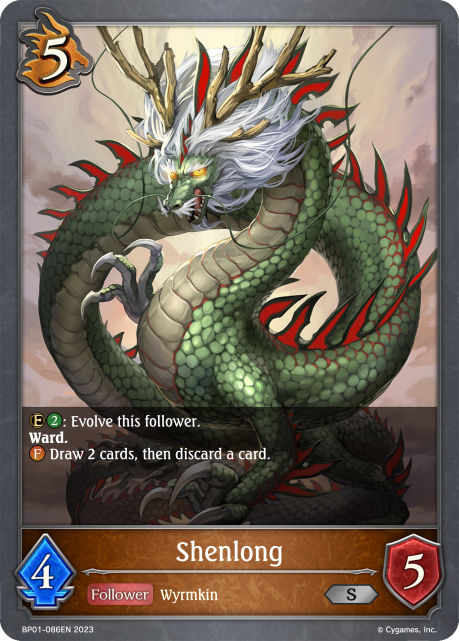 *Up to 3 copies of Shenlong's evolved form may be included in an evolve deck.
Since the launch of the first booster set, Advent of Genesis, Dragoncraft has maintained an almost 50% Top 8 conversion rate across all World Invitational 2023 Regional Qualifiers. With the launch of the second booster set, Reign of Bahamut, Dragoncraft has further established itself as a dominant class in the metagame thanks to the introduction of the "discard" archetype. Furthermore, with the upcoming launch of the first crossover set, Umamusume: Pretty Derby, and its preexisting restrictions, we believe Dragoncraft will continue having a strong influence on the metagame.
As such, we have decided to restrict Shenlong (unevolved) to one copy per deck. Shenlong shores up the weaknesses of Dragoncraft by warding off aggression and maintaining card advantage, while also synergizing with cards such as Dracomancer's Rites. These factors have made it so that playing against Dragoncraft is oftentimes an oppressive experience, and its presence also keeps more aggressive and midrange decks out of play.
We hope that the restriction will allow for more decks and classes to be represented, and will continue to monitor tournament statistics to ensure a healthy metagame.